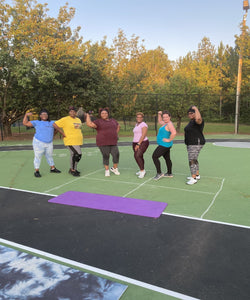 All classes will be held on ZOOM Monday & Wednesday 6pm 
DEADLINE TO SIGNUP July 30th
MONTHLY FEE $150.00 (8 online session)
THINGS YOU NEED TO KNOW BEFORE STARTING TRAINING:
1. All classes will last 30-45min and will be LOW IMPACT TRAINING
2.You will take before and after picture to submit to me
3. Workout equipment you will need weights, yoga mat, glute bands and  resistance band (Example of weight 8 or 10 pound)
4.Shopping list to begin your healthy lifestyle changes(If you have any pre-existing conditions please follow your doctors or dietitians orders for your meal plan)
5. Class times listed below. Please make sure you click the correct time. 
6. If you are injured or pregnant please do not attend class until you are cleared by doctor
7. I will be your accountability coach
8. I will connect you with natural Doctors and herbalist if your looking to live a more holistic life
9. You will have two monthly follow up to see how your eating going 
FITNESS IS A LIFESTYLE
CLASS TIMES
MONDAY,WEDNESDAY & THURSDAY 6PM EST
IF YOU NEED INDIVIDUAL WORKOUT OR DIFFERENT TIME YOU WILL HAVE TO EMAIL ME AT ATHLETICJUNKIE20@GMAIL.COM
NO REFUND FOR VIRTUAL CLASS OR PERSONAL TRAINING. IF YOU MISS A CLASS YOU WILL NOT RECEIVE A REFUND. ALSO, ATHLETIC JUNKIE IS NOT RESPONSIBLE FOR ANY INJURIES AND HEALTH PROBLEMS. ALL PAYMENT ARE MADE UP FRONT AND FINAL.